AC/DC play their first show in seven years
Publish Date

Monday, 16 October 2023, 4:39PM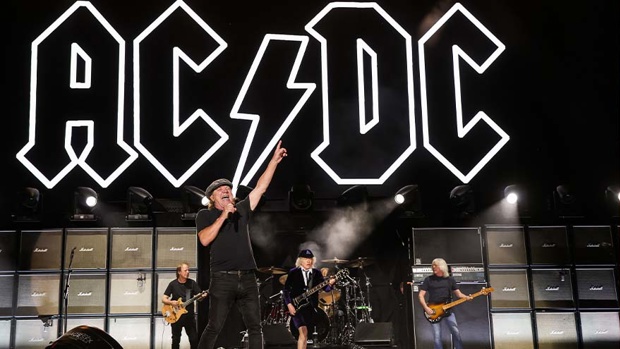 AC/DC played their first show in seven years over the weekend when they headlined the second night of the Power Trip festival. The rock veterans' lineup consisted of classic members Brian Johnson, Angus Young and Cliff Williams, along with Stevie Young on rhythm guitar and drummer Matt Laug.
The 24-song setlist opened with "If You Want Blood (You've Got It)" and featured performances of AC/DC hits like "Highway To Hell," "Thunderstruck," "T.N.T.," and "Back In Black," as well as live debuts of "Demon Fire" and "Shot In The Dark" from their latest album, 2020's Power Up.
See fan-shot footage from the show and the full setlist below.
AC/DC Power Trip Setlist:
'If You Want Blood (You've Got It)'
'Back In Black'
'Demon Fire'
'Shot Down In Flames'
'Thunderstruck'
'Have A Drink On Me'
'Hells Bells'
'Shot In The Dark'
'Stiff Upper Lip'
'Dirty Deeds Done Dirt Cheap'
'Shoot To Thrill'
'Sin City'
'Givin The Dog A Bone'
'Rock 'n' Roll Train'
'You Shook Me All Night Long'
'Dog Eat Dog'
'High Voltage'
'Hell Ain't A Bad Place To Be'
'Riff Raff'
'Highway To Hell'
'Whole Lotta Rosie'
'Let There Be Rock'
'T.N.T.'
'For Those About To Rock (We Salute You)'
- Written by iHeartRadio and republished here with permission